In the spirit of Wardrobe Refashion, I'm posting a tutorial for the Recycled Sweater Jacket I made this winter. It's insanely easy — my version took about 4 hours and cost less than $10.

(1) Start with a 100% wool sweater that is several sizes too big. You want to shrink it down to a heavy fabric and still have it be big enough for you.
(2) Shrink the sweater in washing machine (instructions can be found HERE). Most knitters call this 'felting,' though it is more accurately called 'fulling.' Whatever. Just shrink the sweater.
(3) When dry, get out a sweatshirt or jacket you like fit of. Lay it on top of the shrunken sweater as a template.
Pin and baste the shrunken sweater along the seam that runs down the sleeves and body so that it is the same shape as the template — you will be making new seams here.
(4) Try on to ensure happy fit. (NOTE: The shrunken wool will not have the same stretchiness as your favorite sweatshirt. Try on often.) Cut out along the basted lines with 1/2″ allowance for seam.
(5) Stitch.
(6) Cut the sweater down center front for zipper.
(7) Cut off the bottom of the sweater to make it 3″ shorter than you want the final product to be (3″ is the amount of ribbing I used for the bottom hem — you can of course customize this and make it as wide as you like).
(8) Cut the sleeves off to 3″ shorter than you want the final product to be. See above re: customization.
(9) With sharp circular knitting needle and yarn of your choice, pick up stitches along the bottom of the sweater. The needle will poke right through the fabric, and you can draw the yarn through.
If you want to do this up right, you will swatch to determine what gauge you'll be knitting at, then measure the circumference of the fabric and multiply by your number of stitches per inch — pick up this number of stitches. If you are lazy like me, just pick up as many stitches as look good to you. This is yarn, not rocket science. (I used bulky yarn with US9 needles, and picked up about 120 stitches around a 34″ circumference.)
The following instructions are for TWO DIFFERENT versions. The TABBED version has a button and a length of knitted fabric that covers the base of the zipper. The NO-TAB version has a plain ribbed bottom.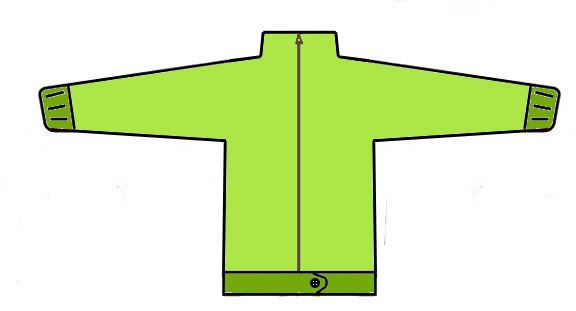 [TABBED VERSION]
At the end of your picked-up row, cast on as many stitches as you like to make the tab (I used 13 with chunky yarn).
Tab increase rows: *turn, k to end of row. turn, k to last 2 sts, Kfb, k1*
Repeat * until knitted piece measures 1.5″ (or half of other desired length). With my chunky yarn, I did this a total of 3 times.
Buttonhole row: turn, k 3, work buttonhole, k to end of row. (Buttonhole instructions can be found HERE).
Tab decrease rows: *turn, k to last 3 sts, k2tog, k1. turn, k to end of row*
Repeat * until decreases match increases.
Skip to Step 11.

[NO TABS VERSION]
Knit in 1×1 or 2×2 rib for 3″ until bottom hem is desired length. Continue to Step 11.
[BOTH VERSIONS]
(11) Bind off loosely or with flexible bind-off.
(12) With double pointed needles, pick up stitches along cuffs in same manner as above. Join and knit in the round, in rib, for 3″ or until cuffs are desired length.
(12a) If you are using a crew neck sweater, or if you find the felted fabric too scratchy by your face, you can cut off the collar and pick up and knit stitches around the neck as well.
(13) Install zipper (instructions HERE).
(14) For tabbed version, sew on button.